Kabbalistic Tu B'Shevat Zoom Seder
Sunday, February 5, 2023 6:00 p.m.
Save the date for Fabrangen's annual Kabbalistic Tu B'Shevat Seder, led by Jay McCrensky, Barbara Hess, and the Fabrangen Kabbalah Study Group.
Please email Jay directly at jmccrensky@aol.com to RSVP and get the link to the Zoom Seder.
Feel free to invite friends, relatives and others interested in experiencing a genuine Tu'B'Shevat kabbalistic seder with music, dancing, singing, discussion, learning and experiencing the deep spiritual significance of this mystical holiday. Bring a bottle of white wine (or white grape juice and a half bottle of red wine (or regular grape juice). We do a lot of meditative tasting and drink three full glasses of wine. No need to worry about driving home!
No knowledge of Kabbalah required!
---
Purim is coming! SAVE THE DATE for March 6, 2023.
Stay posted for more details.
---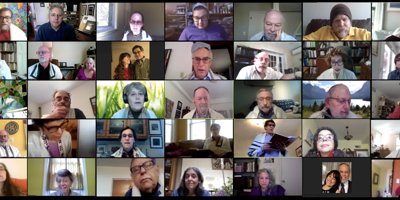 At this time, Fabrangen is holding two types of services: multi-access (hybrid) and Zoom. We are experimenting with "livestream (through the Zoom platform) and in person only services as well. Please wear a mask and follow the latest CDC guidelines when attending in person.
Check the calendar for details.
Please email the Fabrangen Coordinator before Shabbat to get Zoom links.
We use Siddur Lev Shalem in all our services with an online component.
---
Fabrangen's Mission
Fabrangen is a community devoted to Torah, community service, and social justice activism. We warmly welcome everyone regardless of gender, sexual orientation, race, ethnicity, religious background or affiliation, nationality, disability, or age. Our services during the year and for the High Holidays are guided by several principles:
egalitarian and participatory services that seek to include everyone in the spiritual experience
creative mix of traditional and innovative worship
member-led services that engage the congregation