The Fabrangen 50th Anniversary Planning Committee has been busy planning a celebration of this important landmark in Fabrangen's history. There will be two events – a Zoom session on the last night of Hanukkah, Sunday afternoon, Dec. 5th at 4:30-6:00 p.m. and a live event later in 2022. The Zoom event will have music as well as recorded and live portions.
---
50th Anniversary Celebration – Part 1
December 5, 2021 – 4:30-6:00 p.m.
Save the date for Fabrangen's fabulous 50th anniversary zoom celebration and Hanukkah candle lighting.
After registering, you will receive a confirmation email from Fabrangen containing information about joining the meeting. Closer to the event, you will receive an additional email with more details.
---
We invite you to submit videos for this event!
Please send us short videos (60 seconds or less) of your most outstanding memories of Fabrangen. Suggested topics are
Why did you start coming to Fabrangen?
What about Fabrangen have you found most impressive?
If there was an event, practice, or other occurrence at Fabrangen that has had an impact on your life, what was it and how did it impact you?
The videos will be posted on our website and may later be included in an outreach video. We also are reserving part of the December Zoom session for showing as many of the videos as feasible within that portion of the session.
To ensure your video comes to us in time to be incorporated into the Zoom session and to help you optimize your videos, we've developed the following guidelines.
---
If you cannot record your video yourself, please email Jerry at Gerald.Garfinkel@gmail.com to record your memory in a Zoom session he will arrange.
If you do NOT want your name in a subtitle, or do NOT want your video posted on the Fabrangen website, please email Jerry at Gerald.Garfinkel@gmail.com .
Please feel free to email any questions to Jerry Garfinkel or other committee members.
We're looking forward to the event and to including your memories in it.
Video Guidelines
Ensure you have a well-lighted area. Please look directly into the camera.

If you're reading off a sheet of paper, put the paper up fairly high in front of you; just make sure it is not blocking your camera. (Similarly, if you're reading off a computer file, you can move the file on your monitor so that you are still looking into the camera while reading from the file).

To give us time to edit and process the clips, please send them in by Nov 20, 2021.
If you use an iPad or cell phone, please record in the LANDSCAPE MODE, i.e., holding the phone HORIZONTALLY. Hold the phone steady or prop against a vertical surface. Then email the video to Gerald.Garfinkel@gmail.com.
If you use a separate video camera, please try to video in the LANDSCAPE MODE, i.e., holding the phone HORIZONTALLY. Then upload the video to 50th Anniversary – Google Drive . (The video file name should include your name spelled as it should appear in the subtitles.)
If you are using a computer, please use Zoom and record to your computer. You can use the following procedure:

Start Zoom as "Host Meeting With Video."
When you are in the Zoom session, ensure that you are UNMUTED, then turn RECORDING on. (The RECORDING setting is on the bottom of the monitor with the other Controls.)
After you speak about your Memory, turn RECORDING OFF or just END Meeting. The video will be saved in a Zoom folder on your computer – rename the file with your name spelled as it should appear in the subtitles.
Then upload the video recording to 50th Anniversary – Google Drive .
---
Trivia Questions!
We would like to incorporate fun Fabrangen trivia questions – obscure or easy, nostalgic or just funny, into our celebration. If you have any Fab trivia questions you would like to see stump your Fabrangen family or make us laugh or show off your Fabrangen knowledge, etc., please send your trivia questions (with answers!) to lekrieger@aol.com.
---
Did you grow up in Fabrangen?
The Fabrangen 50th Anniversary Committee invites adult children (of your parents) who spent all or a portion of your childhood in Fabrangen to submit a 30-45 second video of memories of your Fabrangen childhood. With that short a time, perhaps memory would be more accurate. You can speak about anything you wish. We have a video guide to help ensure that all videos are clear. We want to hear you and see your face!
Again, you may speak about any memory you'd like. If you need help focusing, here is a list of ideas—choose one of these or make up your own:
Fabrangen child care and religious education
Relationships with other Fabrangen kids
Experiences with Max (who always had candy for the children in his tallis bag)
Experiences with other Fabrangen adults
Services
Kiddush
HiHos
Hanukkah
Sukkot
Simchat Torah
Fabrangen toys
The first thought or feeling that comes to mind when you think of Fabrangen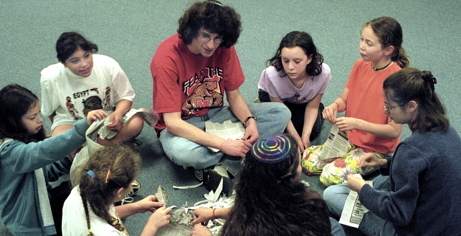 Parents who raised your children in Fabrangen: please share this invitation with your offspring!
If you would like to record a video on your computer, phone or on Zoom, please let me know: lekrieger@aol.com and please copy Jerry Garfinkel gerald.garfinkel@gmail.com We'll send you the video guide.  Please send your completed video to Jerry by November 20.Looking forward to seeing and hearing all of you at the celebration on Zoom on December 5 from 4-6:30.
The FAB-50 Planning Committee – Krayna Feinberg, Clare Feinson, Sue Hoechstetter, Laurie Krieger, Michael Pinck, David Smith, Jerry Garfinkel