The scene: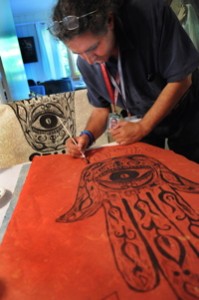 No tickets needed, just walk in and take a seat . . . open to all . . . open seating in pews in a downtown historic church that Fabrangen rents for services . . . dress ranges from informal to more formal . . . Fabrangen decorates the church with Jewish art made by members . . . two blocks from the White House, Lafayette Park and Metro Center . . . community dinner before Kol Nidre, and community break fast after Yom Kippur
The action:
Full services for Rosh Hashanah (two days), Kol Nidre, and Yom Kippur using traditional melodies and some new ones . . . lay-led: women and men lead services and read from the Torah . . . creative innovations at some services
The people:
First-timers, High Holidays regulars, and Fabrangen members, Jews by birth and Jews by choice . . . people of other faiths . . . married and single . . . interfaith families . . . LGBT and straight . . . families with adopted children and families with biological children . . . raised Reform, Conservative, Orthodox, Reconstructionist, Renewal, or with no affiliation at all . . .
Especially for kids:
Participatory age-appropriate services especially designed for children . . . full children's education program for school-age children run by educators . . . childcare for babies, toddlers and preschoolers staffed by professional child care workers
Find us at
New York Avenue Presbyterian Church
1313 New York Ave. NW, Washington, DC 20005 (at 13th and H Streets NW)
Details on upcoming High Holiday Services
Questions about attending High Holidays Services? Email welcome@fabrangen.org.
Questions about the Children's Program and Services? Email children@fabrangen.org.