Join Us for a Friday Night Shabbat Dinner
Who Comes: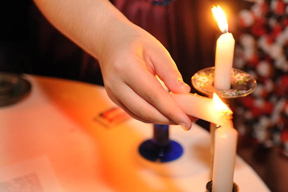 The Friday night dinners are open to all members of Fabrangen (including children), friends of members, former members, Fabrangen "drop-ins", and people who want to get to know our community. The usual crowd is about 15-35 people, of all ages and all levels of Jewish observance.
When and Where:
We usually meet the last Friday of the month in Northwest DC or Maryland, We put the word out about date and location about a week or two before the dinner.
Contact Anne-Marie Deutsch for date and location.
Food:
We ask people to bring a dairy/parve entrée or salad to share. Ok – there are months when we're heavy on carbs and light on protein. But then sometimes our international creativity takes over, and people bring Sephardic bourekas and Indian curries. For those who work late on Fridays, Trader Joe's and Whole Foods have often saved the day.
Most of the time, hosts provide a birthday cake to celebrate all birthdays that fall in that month.
How we got started:
In 2003, a group of Fabrangen families were attending the National Havurah Institute in New Hampshire and enjoying the ease and sociability of the Friday night dinner there. When we came home, we thought it would be great to get together once a month, at nearby homes in Bethesda, Chevy Chase and Northwest DC, where we all lived. We wanted to make hosting a dinner as easy as possible, so we decided to have each guest bring one dish – and to make it extra easy to host a dinner, the host need only supply challah, wine, drinks, dessert and dishes. Nine years later, we're still getting together most months of the year. The friendly relaxation, good food, and Friday night warmth continue to draw us together.
Contact:
If you're interested in learning more about Fabrangen, the monthly Friday night dinner is a wonderful and relaxed way to meet other Fabrangeners. Please join us; RSVP's are appreciated but not required. If you have questions, please email fridaynights@fabrangen.org.