A Hopeful Passover | Psalms for Contemplation | Artwork by Rachel Braun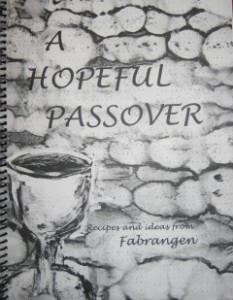 A Hopeful Passover Cookbook
Now in its second edition, A Hopeful Passover has 31 new pages of Passover recipes and Seder musings from members of Fabrangen. Proceeds from the sale of this cookbook are dedicated to Project Hope, a Fabrangen volunteer project, which has provided long-term support to formerly homeless families in our city since 1988.
Cost: $18 per copy plus $6 for mailing per copy
Click here to order A Hopeful Passover Cookbook

Pay by Check: Please make out your check to "Fabrangen Project Hope" and mail it to: Fabrangen 7750 16th Street NW Washington, DC 20012

Pay by Online – via Paypal or Credit/Debit
---
Psalms for Contemplation: Translations by Max D. Ticktin
---
Artwork by Rachel Braun
Fabrangener Rachel Braun has created and embroidered a stunning variety of cross-stitched Judaic wall hangings. Many of her pieces hang in our worship space on Shabbat mornings. You can find a selection of reproductions of her original counted cross stitch and blackwork embroidery designs at her website, Argamom Embroidery.
All profits from Judaic-themed posters, art cards, magnets and bookplates on Rachel's Zazzle site are directed to Fabrangen. Cards are customizable for holiday use.

To order: